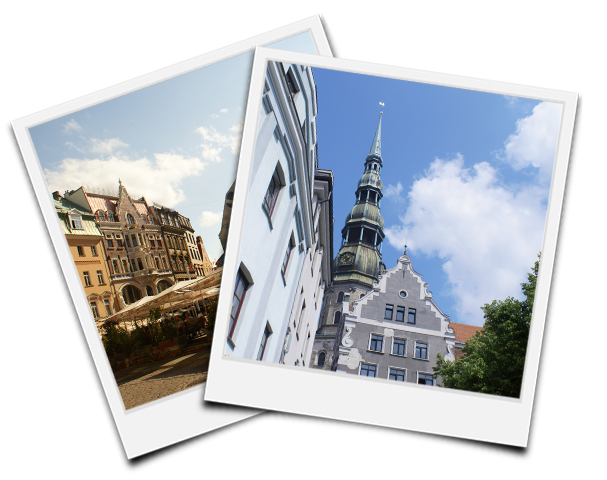 Events in Riga!
October, November, December!
To ease the tension of everyday life in Riga
When coming to Riga for the first time one should visit the city's main landmarks. Begin with the Old Town and then proceed on to the well-known quiet center district of Riga, where the majority of the magnificent Art Nouveau buildings are concentrated. At the start of the 20th century, Riga's parks were called resorts – places to improve one's health and enjoy relaxation. It is even more accurate today, when urban reality calls for spots of nature and greenery to ease the tension of everyday life. Riga has almost twenty parks and gardens – each with its own personality. Here the most popular of them.
Tourist calendar for events in Riga - October, November, December
When?
Event
Where?
Cost
More info
27 NOVEMBER – 01 JANUARY
OLD TOWN CHRISTMAS FAIR
DOME SQUARE – DOMA LAUKUMS
FREE ENTRANCE
find out
13 APRIL – 23 OCTOBER
SOLO EXHIBITON BY ELITA PATMALNIECE ''ONLY NOW EXISTS''
PUTTI ART GALLERY – PEITAVAS IELA 5-31
FREE ENTRANCE
find out
17 JUNE – 30 NOVEMBER
EXHIBITION 'MASTERPIECES OF FASHION''
FASHION MUSEUM – Grēcinieku iela 24
EUR 3.00–7.00
find out
MONDAY – SATURDAY 10:00-18:00
SUNDAY 12:00-18:00
ST. PETER`S CHURCH
Reformācijas laukums 1
EUR 9.00
find out
15 – 21 OCTOBER
Āgenskalns Market
Nometņu iela 64
FREE ENTRANCE
find out
18 NOVEMBER –
PROCLOMATION DAY OF THE REPUBLIC OF LATVIA
RIGA
FREE ENTRANCE
find out
09 OCTOBER – 15 JANUARY
EXHIBITION ''OUR VALUES'' CELEBRATING THE CENTENARY OF THE BANK OF LATVIA
LATVIAN NATIONAL MUSEUM OF ART Jaņa Rozentāla laukums 1
EUR 0.50 – 3.00
find out
30 APRIL – 30 OCTOBER
EXHIBITION ''PLAYMOBIL SUPER HEROES''
VERNISAZA RIGA – Tērbatas iela 2 (entrance from Merkeļa street)
EUR 9.00 – 12.00
find out
07 MAY – 31 DECEMBER
CRIMPLENE FEVER. GLOBAL FASHION IN THE SOVIET MIRROR
NATIONAL HISTORY MUSEUM OF LATVIA – Brīvības bulvāris 32
EUR 0.75 – 3.00
find out
 
THE EXPERIENCE OF HEIGHTS AND ADRENALINE
Zvaigžņu iela 11, Ogre
FREE ENTRANCE
find out
20 AUGUST – 30 NOVEMBER
CONCERT PICCOLO — enjoy the unique sound of the Riga Dome organ in 20 minutes
 
EUR 10.00
find out
EVERY DAY AT 12:00, ON SUNDAYS AT 15:00
STREET ART IN THE CAPITAL MONUMENT
RIGA DOME CATHEDRAL – DOMA LAUKUMS 1
FREE ENTRANCE
find out
You are kindly welcome to Riga!
Smile Line tours - with a smile through the city and all Latvia!
Street art in the capital
Nowadays art has surprisingly moved to streets, inner yards, pedestrian tunnels, bridges and building walls. It serves as an expression of freedom and independence. Graffiti and murals have obscure messages to convey to viewers not only in Riga but in other cities of the world as well.Latvian weather conditions being less sunny than in southern countries somehow still has inspired the artists to bring the abundance of colors on the paper, canvases, sidewalks streets and walls. The capital of Latvia offers things that will create the unique Riga experience. All you have to do is pick and choose!
For families with teenagers
Riga Zoo (Riga Zoological Park) was opened in 1912 in Mežaparks. In the course of time, it grew significantly, and nowadays it is possible to meet there many interesting animals like lions, kangaroos and wolves, as well as attend the Tropical House and explore the water world. It is a perfect site for adults and children as it is close to Lake Ķīšezers and within the pine-tree forest.
International Pet and Zooindustry Show ZooExpo 2022 Gallery
At the show it will be possible to view international professional dog and cat exhibitions, enjoy pet and exotic animal entertainment program. Pet industry goods and services will be offered to customers during the show. Besides, it will be possible to meet with zoo-industry specialists. November 2022.
Riga from the bird's eyes
St. Peter's Church – the dominant ancient sacral building of Riga, is one of the most valuable medieval architectural monument in the Baltic States. It is the highest in Riga and a significant13th-century Gothic architectural building of national heritage.You can wiew Riga from the second platform of thr tower.
Exhibition of "Signs of Values"
Celebrating the Centenary of the Bank of Latvia. The coins from the Bank of Latvia collection have been issued since 1996.Visitors are invited to perceive money not only as a part of the economic system, but also as a cultural and historical symbol, integral element of the spiritual values of the Latvian people. Latvian artists of all ages and disciplines have participated in the design of the coins, experimenting in creation of those unusual pieces of art using finest materials and modern technologies. Each small coin or banknote has its unique message for present and future. · Selected coins from the collection are divided in 8 thematic groups: Our Riga, Our Gold, Our Latvia, Our History, Our Foundations, Our Culture, Our Fairy Tales and Legends, Our World. · The exhibition will be added a special dimension through unique installation objects in the Cupola Hall and on the frontal part of the Latvian National Museum of Art.
Exhibition "Playmobil Super Heroes"
 Oliver Schaffer, a German artist, has created unique collection from thousands of Playmobil figures. In 2009, part of his exhibition was displayed at the Musée des Arts décoratifs in Paris,in the world-famous Louvre.  Schaffer is an official Playmobil ambassador, having more than 300,000 figures and more than 1,000,000 parts in his public Playmobil collection, which attracted more than 5 million visitors in 52 exhibitions.  The adventurers will be fully satisfied: 4 superheroes, adventures, endless entertainment. The heroes work in an adventurous environment, fight against giants, skeletal armies, dragon and monster trucks. Fantastic superheroes fight the evil forces and experience all kinds of challenges. Besides you can travel back in time and get to medieval Riga as well as the city around 1900 in miniature format.
18 November — Proclamation Day of the Republic of Latvia
The Independence of Latvia was proclaimed on 18 November 1918. This day is a public holiday when public institutions and the majority of private enterprises are closed, but various events take place throughout the day.
On 18 November,1918 a group of dedicated people proclaimed an independent Latvian state. A few months after this heroic step had been made, military activities still continued as the Russian Empire was not eager to lose its important territory. The day is the most important national holiday for every Latvian.
Various events and undertakings are organized across the country throughout the day. In Riga the celebration starts with a parade and laying of flowers at the Freedom Monument. The President of Latvia and other important government officials also participate at the ceremony.
The National Armed Forces begin the parade in the afternoon at the 11th November Embankment. The celebration in Riga ends with concerts and magnificent fireworks over the River Daugava.
Exhibition "Masterpieces of Fashion"
 The display offers wonderful pieces of fashion – outfits and accessories from the 18th century until the present day.  The exhibits from the Fashion Museum's collection perceive fashion as a unique cocktail of art and business. The exhibition offers the outfits of splendid masters and popular fashion houses such as Chanel, Schiaparelli, Cristobal Balenciaga, Jean-Paul Gaultier, Issey Miyake, Alexander McQueen and others. The exhibits prove the outstanding skills of the tailors, seamstresses and embroiderers.
Krāminieks" flea market at Āgenskalns market
 At weekends, collectors of antiquities, neighboring children, senior citizens, dogs and street food trunks gather for a chat in the yard of Āgenskalns market. "Krāminieks" flea market offers antiquities from the previous century – analogue photo cameras, garage tools, bicycles, antique postcards, stamps and posters, binoculars and other exciting objects with a story. Also neighbors, senior citizens and children come with their tables and boxes to trade.
Global Fashion in the Soviet Mirror Gallery The exhibition is dedicated to a bright fashion phenomenon – crimplene clothing, which in the 1960s and 1970s was a "fashion cry". The museum exhibits one of the richest collections of crimplene costumes in Latvia from the collection of the artist Anna Aizsilniece, supplemented by items from the museum's collection and private collections, as well as private memories of the former "crimplene mania" – how this fabric was obtained, sewn and worn. National History Museum of Latvia
07.05.2022 – 31.12.2022
"Only now exists – it is exactly what it is" Elita Patmalniece's fashion cry
Elita has created an art space as a dedication to each and every one of us. A work of art that makes you look around, feel the energy, time and the moment that is constantly changing.
Visitors of the exhibition can literally enter the world created by Elita, see themselves from several sides as part of the exhibition, be reintroduced with different aspects of their personality. Entering the colorful vortex of life, travelling to the center of it, can lead us to see exactly what is important to each of us at this moment. Surviving, feeling, being grateful for what we have.
Putti Art Gallery 13.04.2022 – 30.12.2022
The Riga Open-air Flea Market
It is held in the Spīķeri Quarter. Here one can find old knick-knacks and different useful things, as well as original design objects, clothing and fashion accessories.
The market is set up in a spacious and cosy square within the quarter. Historically, Spīķeri was a district of warehouses, so the spirit of trade is familiar to this place. Nowadays the flea market revives this trading atmosphere.
Here one can find old-fashioned objects and clothing, as well as works made by contemporary designers.
Spīķeri Creative Quarter and Promenade 10:00 – 15:00
01.10.2022
Concerto Piccolo — enjoy the unique sound at Riga Dome Cathedral
Concerto Piccolo offers its listeners the unique chance to enjoy the performance of one of the worlds most valuable historical organs of Riga Dome Cathedral. Such a musical instrument is one of the greatest examples of the organ building skills in the Romantic Period, an exquisite monument of musical history.
Those masters who have ever played on the organ of Riga Dome Cathedral have been surprised at the extraordinary qualities of the organ so that they were able to reveal the splendor, ambiguity and stylistic coloring of its sound.
Concerto Piccolo lasts for about 20-25 minutes giving the listeners pleasure to enjoy great acoustics of Riga Dome Cathedral while listening to classical music pieces.
Every day at 12:00, on Sundays at 15:00.
Evening concerts at Riga Dome Cathedral
For many centuries, Riga Cathedral has been one of the most important concert venues, not only in Riga but also in all of Latvia. Even today, regular evening concerts with music from different epochs take place in the Riga Cathedral, where the outstanding and unique organ of the cathedral can often be heard – an example of the highest achievements of late romantic period organ building, built by E.F. Walcker & Co in the years 1883/1884, which is unparalleled in Europe.
The experience of heights and adrenaline
The rock climbing wall built in Ogre is the highest in the Baltics. The implementation of this project is significant on the scale of Latvia, because rock climbing athletes in Latvia have limited opportunities to train in the sport of rock climbing due to the lack of suitable infrastructure. The author of the idea of ​​a rock climbing wall in Ogre, Rolands RuĮens, who has a lot of experience in rock climbing, hard climbing and speed climbing, as well as bouldering, knows to say that the closest countries where rock climbing is developed are Sweden and Germany. When implementing the project in Ogre, it seemed important that everyone can practice rock climbing in it – both professional athletes and those with no experience in this sport, because both children and adults have access to walls of different heights and degrees of difficulty, and that the new object is "life" – is managed, inhabited, develops, instructors, trainers work in it, classes, trainings and competitions take place.
During autumn\ winter season working hours of the climbing wall will be varied according to weather conditions.